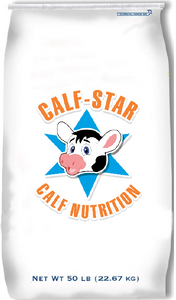 Calf Star Whole Milk Enhancer
For Maximum Performance of Baby Calves
Product Features
Whole Milk Enhancer is added to pasteurized whole milk to optimize levels of protein fat, vitamins, minerals and solids.
High-quality milk protein (with optional plasma and wheat proteins) for high gain and healthy calf performance with an easier transition to dry feed.
Fat level is reduced to balance the high-fat content naturally occurring in whole milk.
Chelated trace minerals are added for optimum absorption and utilization of nutrients.
Product is mildly acidified for optimum stomach pH. Mildly acidified product allows for better protein digestibility and helps form a natural barrier against pathogenic bacteria.
Contains Calf Star Summit pack. This is a combination of natural feed supplements to support a healthy and efficient working digestive system.
Whole Milk Enhancer is a cold process agglomerated for enhanced mixability.
Medication and Clarify™ are optional add-ins.
Product Specifications
Protein level – 26%
Fat level –10%
Non-Medicated or Medicated
Price is per bag pricing - Can purchase by the pallet, 40 bags per pallet
Download our product brochure here: Click Here
---
We Also Recommend